The Marcus Mosely Ensemble will present some highly infectious Gospel Sounds with a Christmas theme on December 16th.
Marcus Mosely (BC Entertainment Hall of Fame inductee and founder of the award winning Sojourners) will lead the Marcus Mosely Ensemble (MME) through some energetic and infectious Gospel sounds and much more on Dec 16. The Ensemble's repertoire spans gospel, jazz, R&B, pop, rock, folk, and blues – so we certainly look forward to a night of rocking entertainment that will no doubt be glorious and happy! This is sure to be an early sell-out event – so get your tickets early! This concert will be special for the Christmas season.
MME is led by: Marcus Mosely (artistic director); Darlene Cooper (vocal director); and Bill Sample (musical director). They will be accompanied by a stellar band of Bill Sample (keys); Miles Foxx Hill (bass) and Buff Allen (drums)
The Inlet Theatre Music Series is happy to host these esteemed performers to this beautiful venue in Port Moody. (Inlet Theatre – 100 Newport Dr., Port Moody)
Parking is free and there is lots of it. Even some underground parking with elevator access to the Main floor. The Inlet skytrain station is just a 5 min walk away.
Tickets are: $30 online ($40 at Door at 6:30pm) Seating is Open Seating
Concert starts at 7:30 / Theatre Doors open at 7:00pm
Printed ticket proof not required at the door as we will have the full Eventbrite listing at check-in.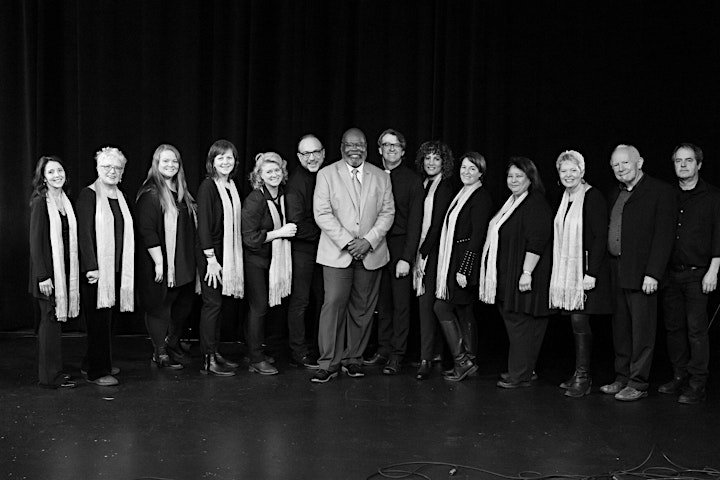 Thanks to EDGAR – our sponsor of the Dec 16 event.
EDGAR is a Vancouver-based real estate firm with experience in residential, purpose-built rental, mixed-use, industrial, office and seniors' housing development. EDGAR has been working with the Port Moody community for 3+ years to revitalize and retain affordable housing at Woodland Park (in the Seaview/College Park neighbourhood at Angela and Cecile), while enhancing the local community and embracing the vibrancy of Port Moody. EDGAR hosted a number of community information meetings and presentations during the policy and zoning changes process, and most recently, hosted a Public Art Open House on-site to talk about the public art opportunities that will come with redevelopment. EDGAR has also been involved in the community through community sponsorships such as the College Park Community Association Movie Night last summer, Golden Spike Days, the Port Moody Seniors Friendship Society Fundraiser Golf tournament and more.